Now, we bring you a tale of four districts: all four used the same brand new, core literacy program. One school raised its achievement by 8% overall, while the other three districts simultaneously declined in performance. What happened? All the districts have the same brand new resources, but only one district actually made marked improvements, going from the lowest-performing of the four schools to the highest-performing school—in just one year. What element could've made such a drastic difference?
We all know that teachers are essential to students' education. And while achievement usually begins with students, who regulate their own commitment to learning, teachers are responsible for sparking students' enthusiasm—and they must do so using the tools they have at hand. Sometimes, though, teachers can use some new resources in order to engage their students.
This is where professional development comes in!
In an educational environment, PD aims for long-term success by providing educators with tools they can use immediately—teachers discover new methods to improve student performance and overcome challenges while working with administrators to develop goals for the classroom as well as the school. Educators collaborate with colleagues in new, creative ways. PD goes beyond simple workshop trainings, to guide teachers in successfully implementing what they learned for years to come. Thus, overall performance increases, ensuring school-wide success.
Several companies with exemplary professional development for teachers are out there. Benchmark Education Company, or BEC, offers a range of PD products and services; through our customized trainings, we involve not only teachers and students but also administrators and parents. We offer coaching and mentorship in the classroom for teachers and students that last for months—even years. Additionally, we provide model lessons and classroom walk-throughs. Our trainings are inclusive of all types of learners, to help teachers develop student reading comprehension and critical thinking through whole-group, small-group, and independent learning.
Consider our work with a diverse elementary school in St. Cloud, Minnesota. The district had just instituted a new core reading program and a non-BEC literacy program for Grades 3–5, presenting our team with the unique opportunity to work with programs not our own. Our PD director spent last year presenting monthly PD training to their teachers, and the results were dramatic.
Assessment Administered to Students

:
Minnesota Comprehensive Assessments (MCA-III) Reading Test
The school whose staff received BEC professional development experienced an increase of 8–10% in the number of Proficient or Higher readers compared to the prior year. Particularly notable was the 11% increase of improvement among boys.
On the other hand, three demographically similar schools in the same district did not have any BEC professional development. They experienced a loss of 1–2% in Proficient or Higher readers during the same time frame.
Because of the significant improvements in the school our PD team worked in, the St. Cloud district expanded its PD contract to include all four of its schools.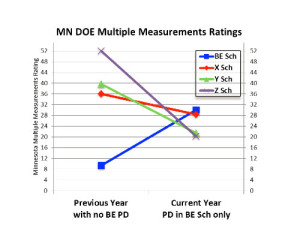 It is clear that the BEC PD team can guide teachers to help improve students' success. While you are researching professional development services, consider a closer look at Benchmark Education!
Tags: Benchmark Education Company, Professional Development, Professional Development for Teachers